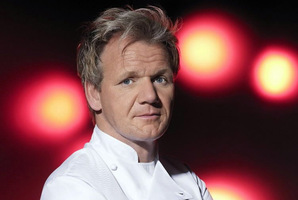 Celebrity chef Gordon Ramsay cooked a fry-up in the kitchen of a boutique hotel after a late night out last time he was in New Zealand.
In his only interview before his long-awaited appearance at a celebrity dinner in Auckland next month, Ramsay told the Herald on Sunday he still liked to get in the kitchen whenever he could.
"The last time I was in New Zealand, I nipped in to the hotel kitchen and made the most delicious scrambled eggs on toasted sourdough," he said.
The kitchen was at Mollies Boutique Hotel in Herne Bay, in February last year when Ramsay was promoting Royal Doulton dinnerware.
Owner Murray Rose said Ramsay returned after midnight to a closed kitchen.
"He was very nice about it, he just asked if we would mind if he prepared something for himself and we said 'of course not'," Rose said. "The only bad part is that I wasn't there at the time to help him eat it."
Rose described the bacon and scrambled eggs dish as "a classic fry-up but slightly higher spec".
He said the holder of 14 Michelin stars did his own washing up afterwards. "The kitchen was immaculate in the morning."
Ramsay said: "Cooking is what got me where I am today, it will always be part of me and I wouldn't change it for the world. But after years at the stove and in some top professional kitchens, it is nice to be doing something a bit different, but my approach to the restaurants is still very hands on."
Asked what he would choose as his last supper, Ramsay said: "My last meal would probably be something simple, like a really beautiful steak with a salad."
He has no plans to open a New Zealand business, but praised several he ate at last time. "I went to some great little places - Depot, Euro, Ebisu. I'm looking forward to trying a few more."