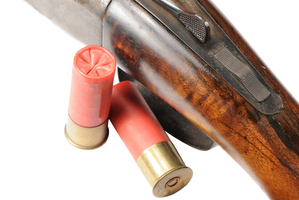 Rabbits weren't the only victims during this year's annual 'Great Bunny Hunt', with one of their hunters accidentally shooting himself today.

A 26-year-old Southland man was flown to Dunedin Hospital after the shooting on a farm in the Queensbury area, near State Highway 6, Luggate about 10am.

Sergeant Simon Paget from Cromwell police said the man was alone when it was believed he lost his footing while shooting and fell, suffering injuries to his left hand and forehead.

He administered first aid and then walked out to the area where he and his party were camping to seek medical help.

This year's Great Bunny Hunt is the 23rd anniversary of the event, which to date had been incident free.

An organiser of the event, Dave Ramsey said there were 432 shooter in 37 teams.

The event started yesterday about 8am and finished up about midday today.

Dry conditions offering few hiding places were the rabbits' undoing this year as a total of 18,027 - nearly double last year's result of 10,900 with the same number of shooters.

"(Last year) there was a lot more growth around, so the dryness has probably had an effect.''

The winning team came from Roxburgh, Mr Ramsey said.
- APNZ