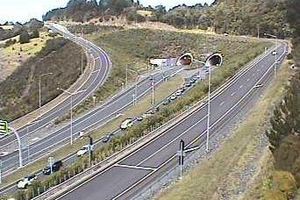 Main roads out of major centres were clogged with traffic today as holidaymakers hit the roads for the Easter weekend, but so far drivers were being patient police say.
Traffic slowed to a crawl north of Auckland this morning as holidaymakers headed out of town .
Northbound traffic on State Highway 1 was this morning backed up for several kilometres at the toll road tunnels at Puhoi and the approaches to Warkworth and Wellsford.
Police northern communications spokesman Inspector Matt Sillars said "every man and his dog'' was travelling.
"You're not going to stop holiday traffic, unfortunately. I thought everyone would have travelled last night, but clearly not.''
Police have urged drivers to be patient, and have advised motorists to consider SH16 as an alternative route.
The Easter holiday traffic was also causing congestion north of Wellington.
Acting Inspector Bruce Mackay said there was a backlog along Mana Esplanade, which would cause congestion at Paremata.
"But on the whole it's flowing pretty well.''
He said drivers needed to be "patient, patient, patient - that's the key word''.
Mr Mackay had not heard of any major traffic problems though.
By this time of the day the majority of the traffic had left town, he said.
Motorways heading north out of Christchurch were also busy.
Inspector Peter Hegarty said there were not too many incidents for the whole of the South Island.
Sergeant Damion Rangitutia from Dunedin police said roads leading out of the city were "extremely busy'' with traffic moving about 80km/h.
"But there have been no reports of crashes today so far,'' he said.