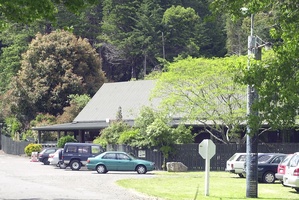 A 2-year-old boy who nearly drowned at a Bay of Plenty hot pool yesterday was not supervised by adults, the facility's owner says.
The toddler was resuscitated by a guest at Awakeri Hot Springs holiday park, 16km southwest of Whakatane, and was today recovering in Starship Children's Hospital in Auckland.
A hospital spokesman said he was in a stable condition.
Awakeri Hot Springs owner Kevin Haig believed the boy's adult minders had gone to a nearby barbecue area to talk to their friends.
"There were no adults there as far as I know. An older kid raised the alarm,'' he said.
The pools are surrounded by a high fence with a latch too high for a child to reach.
"I'm guessing adults have taken him into the kiddies pool.''
The boy was found face-down in the water and was not breathing when he was pulled out by a guest at the holiday park, who knew CPR.
He was thought to have been underwater for more than a minute.
"I was very apprehensive when I first got up there,'' Mr Haig said.
The boy started breathing after about 30 seconds of CPR and then began to cry.
Mr Haig said the holiday park's groundsman had been to check the pools just five minutes prior to the incident, and there had been no children swimming.
"If we see a kiddie near the pools without any adults we take the kiddies out or drag an adult there,'' he said.
There were large signs at the hot springs asking parents or caregivers to supervise children at all times.
The boy was taken to Whakatane Hospital before being transported to Auckland by air ambulance.
A Department of Labour spokesman said preliminary inquiries were being made into the incident.
It had not yet decided whether to hold a full investigation.
Senior Sergeant Bruce Jenkins said police were not investigating.
"We've recorded the details of the people who were present but we're not conducting an inquiry as such.''
- APNZ