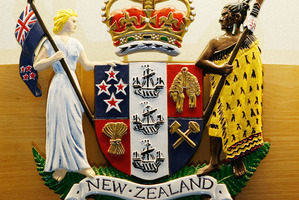 Six siblings have been jailed for bashing a couple during a violent home invasion which involved a machete and in which a 14-year-old boy was knocked unconscious.
The attack on Tamati Reihana took place after his relationship with Ramarie Paku, 26, finished towards the end of 2011 and he moved in with a new partner in Mill Rd, Whangarei.
Paku and her siblings Peramari Anania, 22, Marcus Samuels, 21, Maxine Samuels, 22, Netisha Samuels, 20, and Tangaroa Samuels, 19, earlier pleaded guilty to two charges of injuring with intent to injure and one of injuring with reckless disregard.
The family appeared for sentencing in the Whangarei District Court last week.
The court heard that Paku was upset and harsh texts and Facebook messages were exchanged. After a confrontation between Paku and Mr Reihana on November 8, 2011, she and her siblings went to the Mill Rd address, entered a bedroom where Mr Reihana and his new partner were and set upon them.
A machete, gas bottle and fists were used on the couple.
The 14-year-old who heard the commotion had tried to intervene and was knocked out.
Crown solicitor Mike Smith said the six were fortunate they were not facing more serious charges, judging from the extent of the assault.
He submitted that a custodial sentence was the only suitable outcome.
Paku's lawyer, Kelly Ellis, said the guilty pleas saved the boy and other complainants from giving evidence.
Paku maintained that Mr Reihana had hit her several times before the Mill Rd attack and that Paku was pregnant with his child when the assaults took place.
Paku was pregnant again, had a loving partner and had spent a long time on bail, she submitted.
Marcus Samuels' lawyer, Roger Bowden, said the siblings wanted to demonstrate a point rather than embark upon a serious assault.
Judge Keith de Ridder said Mr Reihana and his partner had left Whangarei after the siblings decided to take the law into their own hands. A higher degree of premeditation was present in the assault which started the minute the siblings entered the house, he said.
The use of weapons, attacks to the head and multiple attackers were the aggravating factors in the case.
Anania and Maxine Samuels were each jailed for two years and 11 months.
Paku and Marcus Samuels got two years and eight months. On a charge of possession of cannabis, Marcus Samuels was sentenced to a further six months jail.
Netisha Samuels was jailed for two years and four months and Tangaroa Samuels two years and two months.
For more articles from this region, go to Northern Advocate