Prime Minister heading large delegation next week to foster trade with Asian giant.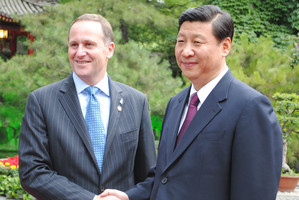 The last association John Key had with Xi Jinping, the new president of China, was to apologise for the scuffle outside the Beehive involving Green Party co-leader Russel Norman, a Tibetan flag, and the security detail attached to Mr Xi, who had been visiting New Zealand as vice-president in 2010.
At the end of next week, the Prime Minister will lead a large delegation to China and will be among the first foreign leaders to meet the new President.
Mr Key will meet President Xi during the weekend after Easter at the Bo'ao Forum for Asia, an annual economic meeting hosted by China, before heading to Beijing, Shanghai and Guangzhou.
He will be officially welcomed by the new Premier, Li Keqiang at the Great Hall of the People in Beijing.
Foreign Minister Murray McCully will also attend the Bo'ao Forum. Other ministers, Economic Development Minister Steven Joyce, Trade Negotiations Minister Tim Groser and Maori Affairs Minister Pita Sharples, will join the trade delegation of about 50, and a kapa haka group of about 10.
In Beijing the delegation will formally receive a Maori cloak that was given to Chairman Mao Zedong in 1957 by film-maker Ramai Hayward on behalf of King Koroki, the fifth Maori King.
A spokeswoman for Dr Sharples said the cloak was rediscovered in 2004 by John McKinnon, a former ambassador to Beijing.
The cloak will be loaned to The Museum of New Zealand/Te Papa Tongarewa to be displayed at a later date.
Speaking at his post Cabinet press conference yesterday, Mr Key emphasised New Zealand's economic ties to China saying the trade and investment with China since the free trade agreement was signed five years ago had helped to lessen the impact on New Zealand of the global financial crisis.
New Zealand exports to China had more than tripled, and last year totalled $6.9 billion, up 16.6 per cent on the year before.
He also pointed to rapid expansion of tourism with visitor numbers from China last year at 200,000, or 35 per cent higher than 2011.
The visitor numbers from China in February were 100 per cent higher than last year's, making it the record February ever for international arrivals.
His trip will coincide with the first New Zealand China Partnership Forum, an event co-hosted by the New Zealand China Council and the China Centre for International Economic Exchanges.