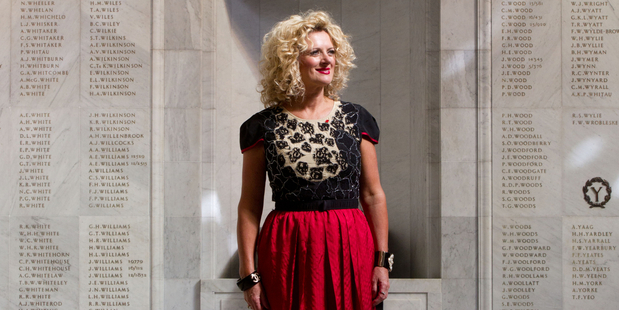 Celebrated fashion designer Trelise Cooper has deep family connections with the armed forces.
Until now she has never had a direct personal role. But that is about to change with her appointment as patron for the Auckland Returned Services Association. She is the first woman to hold the position in the Auckland RSA's 96-year history.
"Yes, it's a bit different, but I feel very honoured and privileged to have been asked," Cooper said.
Cooper says her own family's connections to World War I and her stepson's involvement in the army inspired her to take up the challenge. An uncle was a commander and her stepson Jacob Cooper, 39, served in the army.
"He went into the army as this young guy with dreads ... it was the making of him. He came out a changed man; a fantastic kid," she says proudly.
"He's now a bank manager with a great 17-year-old daughter and a lovely wife.
And I think being in the army was what made him the leader he is today."
It will be a busy year for the new patron, who is getting ready for Poppy Day and Anzac Day next month. She is also gearing up for next year's centennial - remembering 100 years since thousands of New Zealanders died in World War I - and a youth programme aimed at teaching young people life skills. Past patrons include World War II Royal Air Force commander Sir Keith Park.
She says being able to give back to the RSA community was a privilege.
"I think for a woman to be a patron is just so great and forward-thinking of the RSA. There are so many women in the military now than ever and they are just as inspiring.
"They have a legitimate role that I think many people know about now."
Ever the designer, she wore a red and black outfit to match the tiny poppy brooch pinned to her top.
Auckland RSA president Graham Gibson said having Cooper on board was a move to get younger people interested in their country's history.
It was also a strategic nod to the role of women, particularly following the death of Lance Corporal Jacinda Baker, who was killed in Afghanistan last year.
"It's traditionally been a male - the last one was a great supporter of the RSA and did a great job - but we were looking around and Trelise's name came up. We found out she was just an ordinary girl from Te Atatu who left school at 15 ... she's a battler and it impressed us," Mr Gibson said. "She's inspiring and I think a fresh face who is relevant to today's young people."