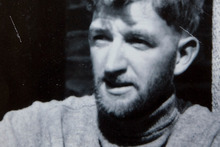 Mountaineer George Lowe, who died this week, has been hailed an unsung hero of the history-making Mt Everest expedition nearly 60 years ago.
Mr Lowe was the last surviving climber from the team which first successfully scaled the mountain.
He died on Wednesday in England aged 89.
One of two New Zealanders on the 1953 British expedition, George Lowe helped establish the final camp 300 metres below the summit on May 28, 1953.
The next day, Sir Edmund Hillary and Tenzing Norgay reached the peak.
Mr Lowe was a lifelong member of the New Zealand Alpine Club, and its general manager Sam Newton said he was an "unsung hero" of the climb.
"The climbing he did would indicate he had an extraordinary athletic ability.
"He was typical of that generation of New Zealand climbers who, with very little funding and a lot of effort, represented New Zealand very well overseas."
Mr Newton said it was a great shame Lowe didn't quite make it to the 60th anniversary of the first Mt Everest ascent, which is happening in May.
Sir Ed's son Peter today (Fri) remembered Mr Lowe as a talented man who shared his father's passions for climbing and helping others.
Mr Lowe contributed to the mountaineering community in New Zealand and overseas, including the education of people living near Mt Everest in the Himalayas, which were "real priorities for George", he told Radio New Zealand.
"That's perhaps one of the really significant things about today losing George. It just is another stamp of how important this New Zealand connection with Mt Everest is," Peter Hillary said.
He referred to the Mt Everest climbs involving his father and Mr Lowe and their later work building the schools and hospitals.
"It's been a long New Zealand involvement with the highest mountain on the planet."
In recent years Mr Lowe's health had declined, Mr Hillary told RNZ.
"He became very much more frail - no longer the robust and very articulate man he was for most of his life, and he just sort of slipped under the radar in those final years.
"It's a sad day."
Double amputee and former mountaineer Mark Inglis said climbers of Mr Lowe's era were "inspirational".
"They were just so tough. We used to learn from those who've gone before, and the amazing thing that those guys did was they went to places that no other human being had ever been, which was amazing."
George Lowe played a major role in motivating future generations to take up mountaineering, Mr Inglis said.
"New Zealand has just such a phenomenal record of inspirational mountaineers, and most of the public never hear of them."
Many of them had lost their lives in the "dangerous sandpit that we play in", Mr Inglis said.