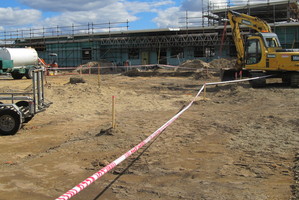 Stories making the news around the country include a grisly discovery at a construction site and the kindness of strangers.
Construction workers near Whakatane Hospital have made a grisly discovery.
A Gisborne family were speechless after discovering a mystery diner had already paid for their meals at a Hastings restaurant.
A pilot watched in horror as his 1969 Piper Twin Comanche touched down at Taieri Aerodrome and crashed off the end of the runway yesterday.
A lack of volunteers means Christchurch could be unprepared if another natural disaster strikes.
The Government's proposals for earthquake-prone buildings, if even partly implemented, will have catastrophic effects on Waimate.
Tests have narrowed down which industries may have been responsible for overloading Wanganui's wastewater system, turning it into Pong-a-nui.
In Hamilton the drought is starting to take its toll on sporting events, with the 74th 5 Bridges River Swim in jeopardy.
Balloons Over Wairarapa is celebrating its 15th anniversary this weekend.
The Harawira family is getting into trouble again in Northland.
Residents are horrified that Tauranga's coastline is being treated like a rubbish dump.
Other headlines from around the country:
Pateke numbers in Northland are through the roof
Security needed for hot spot in Tauranga
Son of Split Endz drummer in court on assault charge
Poor teens could turn to pokies
Free parking is now a possibility in the Bay of Plenty
Police uproot 3000 cannabis plants