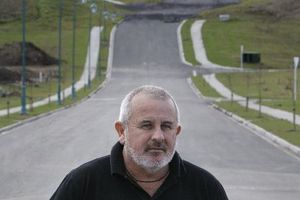 Three Ngongotaha property owners who are in a state of limbo over their homes which are on sinking land will have their day in court in May.
The Rotorua District Council issued building consents and code of compliance certificates for three properties in the Oakland Estate subdivision on Western Rd developed by former councillor Geoff Kenny on Ngongotaha's Western Rd.
However, about 14 months ago the Department of Building and Housing reversed the consents and compliance certificates. Subsidence had caused damage ranging from uneven floors and loose bricks to doors and windows which would barely close and cracks in foundation walls.
The Rotorua District Council appealed the reversals but the parties had been waiting for a date to be set for an appeal hearing.
That appeal hearing is to be held in the Rotorua District Court on May 29 and 30 before Judge Chris McGuire.
One of the property owners, Grant Collins, said he was happy a date had been set.
He said he was looking forward to his day in court"so we can get on with our lives".
The properties are owned by Mr Collins and Shirley Vos, John and Eileen Grundy and Katy and Richard Davis.
Meanwhile, the three property owners will also appear in the Rotorua District Court on Monday to appeal their valuations.
Mr Collins bought his house for $430,000 and it had now been revalued at $100,000. Each of the three properties are valued at $100,000.
"They are not worth anything. Even a demolition company won't give us anything for it," Mr Collins said.
For more articles from this region, go to Rotorua Daily Post