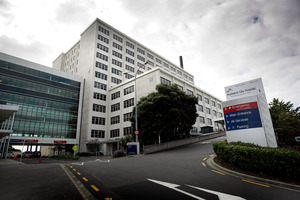 The parents of an 11-day-old baby, allegedly snatched from Auckland's Starship Hospital, have appeared in court charged with abduction.
The pair cannot be named, as they were granted interim name suppression, and were remanded in custody for the weekend. They are due back at the Auckland District Court on Monday.
Community Magistrate Joanna Sihamu said the mother had mental health issues and had given birth 11 days ago.
The baby - known as baby Jacob - was allegedly taken from hospital last night.
Police said baby Jacob has a muscular condition requiring a tube for feeding and needs specialist care.
They allege CCTV footage taken last night shows the mother taking her son, and being helped by a man.
Officers searched through the night for the baby, and before 8am today someone connected to the family contacted police after seeing media coverage about his disappearance.
Jacob was found at an unidentified address in Auckland with his mother. Other people were also at the house, said Northern Police Communications spokesman Inspector Peter Raynes.
"The baby was alive and well when police officers arrived,'' he said.
Following the arrests this afternoon, baby Jacob was returned to the hospital's intensive care unit where he has been described as being in a stable condition.
He is now in the legal custody of Child Youth and Family (CYF).
"We're very relieved to have Jacob back in our care,'' said Auckland District Health Board communications manager Mark Fenwick.
CYF was now working with police to ensure Jacob's safety, a spokeswoman said.
The agency had previously been involved with the family, she confirmed.
Security at the intensive care unit has been increased since Jacob was taken, and Mr Fenwick said he expected a review to take place.
Visitors to the unit are required to report to the charge nurse or duty nurse and advise who they are visiting as part of usual procedure, he said.
In January last year Auckland woman Neha Narayan kidnapped a stranger's baby from Middlemore Hospital.
She took the baby from a maternity ward crib six months after she had suffered a miscarriage. As a result of mental health issues and relationship problems, she had pretended she was still pregnant and even bought infant's clothes and other baby items, the High Court at Auckland was told.
The 25-year-old said she took the newborn to convince her partner she had given birth.
She was sentenced to two years' intensive supervision and 200 hours' community work.
- APNZ