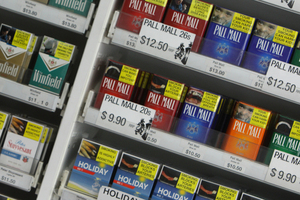 A cancer charity will accept money from a retail group with ties to big tobacco, even if the Starship Foundation won't.
The New Zealand Association of Convenience Stores (NZACS), whose members include British American Tobacco and Imperial Tobacco, will donate the proceeds of its golf day next month to the Breast Cancer Research Trust.
The fundraiser at the Remuera Golf Course will see tobacco company representatives rubbing shoulders with charity staff and actor Shane Cortese, one of the trust's high-profile ambassadors.
Last year's golf day raised several thousand dollars for the Starship Foundation, but the charity pulled out this year because of NZACS's links with tobacco companies.
Its chief executive, Brad Clark, said the Starship Foundation did not wish to be associated with NZACS's views.
The association was a vocal opponent of the retail display ban on tobacco products, and, more recently, of plain cigarette packaging.
"Because they do from time to time put out statements that may reflect the views of the tobacco companies, it's just an association that we'd prefer not to have," Mr Clark said.
"Our mission is to support child health, and a couple of their members are tobacco companies."
Breast Cancer Research Trust marketing manager Phillipa Green said the trust was delighted to be a beneficiary of the golf day. She said the trust did not support smoking, but that had nothing to do with the fundraiser.
"We don't believe that in any way our attending on the day is supportive of the current tobacco issue going on in this country," Ms Green said.
"They are a lobby group that fights on behalf of their retailers for a number of issues. One of them at the moment, yes, is tobacco ... but it's nothing to do with ourselves or any other charity."
The trust is hoping to raise $10,000 from sponsorship and a silent auction.
NZACS chairman Roger Bull said the group did not promote tobacco, and its aim was to advocate for the retail sector.
He said tobacco legislation was just one issue affecting retailers.
Mr Bull said tobacco firms did not contribute any more funding to the group than other members, which included food, drink, confectionery and service station firms. APNZ
- APNZ