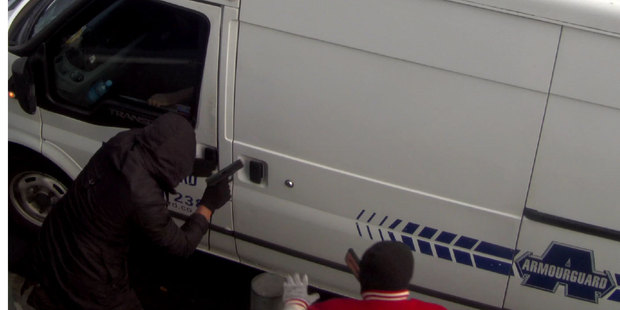 Two armed robbers were left empty-handed when the security guard they attempted to rob locked himself in his van in West Auckland yesterday.
Police said the offenders pulled a pistol and a sawn-off shotgun on the guard, who was returning to his Armorguard van, outside The Korner Bar at the Kelston Shopping Centre at 10am yesterday.
However, he managed to lock himself inside the van before the robbers could reach him. The pair tried to get into the vehicle, but failed.
They made their getaway in a stolen black Subaru Forrester, registration FYA372, driven by a third person. Police later recovered the car parked on Clayburn Rd in Glen Eden.
Waitakere Police have obtained good CCTV images and are investigating the incident.
The first offender is described as wearing a red stadium jacket with white sleeves and carrying a sawn-off single barreled shotgun with a wooden stock, and the second was wearing a black hooded jacket and carrying a black pistol.
Both were wearing black balaclavas and gloves.
Anyone with information should contact Detective Steve Norris at the Henderson CIB on (09) 839 0630.
- nzherald.co.nz