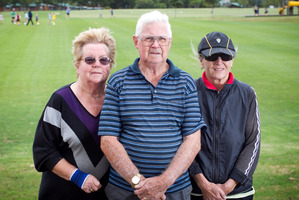 A decision to ban use of a $2.1 million West Auckland sports field on summer Sundays and to limit inter-club and inter-school games to one night a week during week days is "over the top", say three Parrs Park neighbours.
Erin Ross, and Margaret and Tom Pascoe, yesterday contacted the Herald to say they fully supported greater use of the artificial turf pitch when they learned that other residents' noise complaints had persuaded planning commissioners to control its use.
"I'm so narked because they growl about graffiti and yet they are moaning about the boys and girls enjoying themselves and laughing and playing," said Margaret Pascoe, who has lived next to the turf for 13 years.
"It's such a lovely park and before the artificial field it was a mess and we had a lot of trouble."
Her husband, Tom, said he was a sports fan and loved watching games while working in his garden.
"On a Saturday morning when the soccer starts, you see little kids and all the mums and dads here.
"There's no yelling and screaming and the whistles and air horns complained about come from other parts of the park."
"And we've never heard swearing and yelling," said Mrs Pascoe.
Erin Ross said she was "elated" with another part of the commissioner's decision released yesterday, which extended hours of use from 32 in winter and 20 in summer to a total of 56 hours for the week.
Auckland Council sought resource consent for the hours of the turf pitch facility, which opened in 2011, and for setting a new noise standard for neighbouring homes.
Clubs using the facility were from Glen Eden, Henderson and Te Atatu South.
In addition to soccer clubs, the pitch was used for school sport and holiday programmes, lacrosse training and ultimate frisbee.
Commissioners Peter Reaburn and Cherie Lane said they considered it was in the interests of the wider community that adequate use was made of such an important facility.
"However, we are conscious of the fact that any use of the turf has the potential to exceed the permitted activity noise standards ..."
Resident Maree Kennedy said she felt helpless to stop the council from increasing use of the Greenfields pitch and noise at her home.