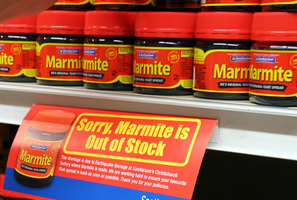 A Christchurch Pak `n Save employee has been left red-faced after accidentally putting the highly anticipated Marmite on sale a day early.
The yeast spread will officially be back on supermarket shelves tomorrow, but some shoppers were briefly able to buy it at the Wainoni Pak `n Save.
It has been out of production since the earthquakes damaged the Christchurch plant where it is made.
Foodstuffs Operations Manager Steve Anderson said it was a mistake on the part of a well intentioned employee, and has since been removed.
He said they had to get the product delivered to supermarket back-stores today in preparation, but this employee had just jumped the gun a bit.
There have also been reports of Marmite on the shelves of Pak n Save Upper Hutt.