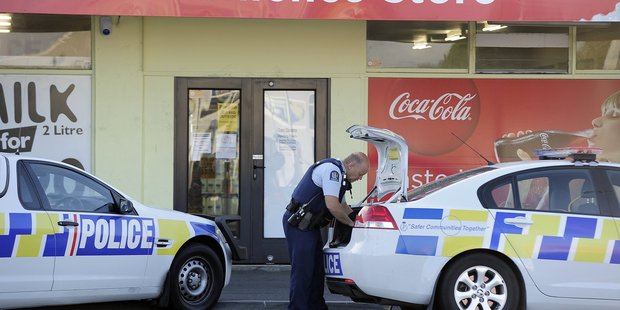 Footage of store staff pelting a would-be robber with canned food after he tried to rob a Tauranga dairy will be broadcast on Police Ten 7 this week.
Police Ten 7 was in town filming at the Crazy Clearance and Convenience Store on Cameron Rd yesterday.
The segment will feature as Crime of the Week on Thursday's episode in a bid to find the man who attacked the shop manager with a mallet-shaped piece of wood as he tried to steal cigarettes and money on March 4.
Tauranga Detective Constable Dwayne Morgan talked the show's presenter Graham Bell through the brazen crime.
"It was a pretty violent robbery. One of the victims was attacked by this wooden mallet thing," Mr Bell said. "It would appear that this offender is not a towering intellect. He certainly hasn't thought it through. It appears spur of the moment to me."
The man came in through the back door about 7.20am on March 4.
One staff member closed the back door and threw items of food at the man while the other tried to hit him with a display stand.
The offender was not able to get into the till or the locked cigarette cupboard. He smashed a computer screen before running away empty-handed.
The man ran off through alleys between Tenth Ave and Eleventh Ave heading towards the city and was last seen running down Eleventh Ave near the Mad Butcher.
The man was skinny, wearing a black balaclava, a large baggy camouflage jacket with a hood, black combat boots and blue skinny jeans.
Mr Bell was hopeful the segment would see results as people always wanted to help solve serious crimes.
"There's good security footage which is always good for us because it gives our viewers a chance to play detective," Mr Bell said.
Mr Morgan said if anyone had any information, to call police on (07) 577 4300.
Police Ten 7 will screen on TV2 at 7.30pm on Thursday.
For more articles from this region, go to Bay of Plenty Times