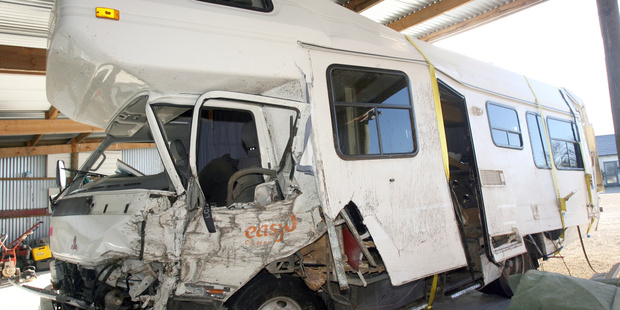 A Northland father killed after losing control of his campervan near Mt Bruce had ignored a warning from his 10-year-old son to pull over and rest, an inquest was told.
Wellington coroner Ian Smith found that Horihau Simon, 47, died at the crash scene of a ruptured heart and aorta after being thrown from the rented vehicle about 2.30am on State Highway 2 on June 26, 2011.
Police discovered about $7000 cash in Mr Simon's wallet and "a sizeable amount" of methamphetamine in his clothing, the court was told.
Also, a number of cellphones, a laptop, two air pistols, a stolen iPad and a driver's licence in the name of Joseph Smith were discovered in the campervan.
Mr Simon had been travelling with his 10-year-old son from Auckland, where the van had been rented, to Queen Charlotte Sound in the South Island for his son's birthday.
The boy had given evidence that about an hour before the crash his father's eyes were closing and his head was nodding as he drove.
He handed his father an energy drink and suggested "they all should have a sleep" before the boy retired to a bunk in the back of the van and napped.
The boy woke briefly "in a town that seemed to have quite a few drunk people in it", the court was told, before waking again when the van was no longer moving.
The court heard Mr Simon had lost control of the van, which had crossed the left hand fob line and travelled down the soft shoulder before colliding with a bank near the Mt Bruce summit on State Highway 2.
The impact threw Mr Simon through the windscreen and on to the road.
The vehicle then crossed and recrossed the road while driverless, leaving a trail of debris from its interior, before coming to rest.
First to the crash scene were four members of the Mongrel Mob who turned off the van's engine and called emergency services.
Police discovered the boy still inside the van and he was taken to hospital with minor scratches.
Mr Simon had convictions for assault, possession of cannabis and LSD, and domestic violence, most involving the mother of his son, the court had heard.
A toxicology report showed there was no alcohol in Mr Simon's system but there was evidence of possible methamphetamine, MDMA and cannabis use.
* Read the Herald's live news blog here.
For more articles from this region, go to Wairarapa Times-Age