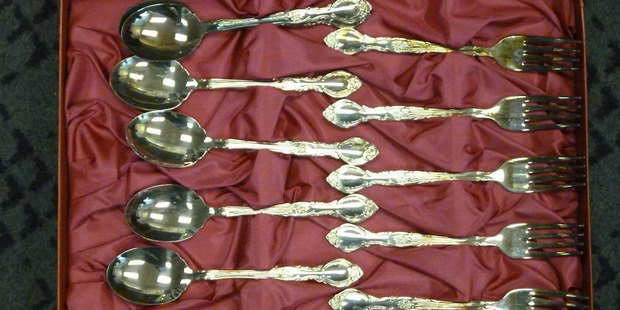 Police are baffled by the discovery of a box of expensive-looking silver cutlery and kitchenware found hidden in the bushes at an Auckland cemetery.
The box was discovered on March 6 by someone walking through the Hillsborough cemetery and handed in to the Avondale police.
Sergeant Garry Ball said the box contained a number of items including silver serving spoons in a presentation case. It was not clear whether the box had been stolen and dumped.
"It would be nice for someone to have them back," he said.
The box contained a Rodd-branded cake slice and spoons and sets of cutlery, a white marble-look lamp base, a blue case, gold-coloured candlesticks and a number of cups and utensils.
If you know where the items came from, or can help get them back to the owner, contact the Avondale police on (09) 820 5700.