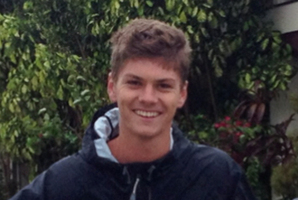 A teenager found dead in Christchurch's Hagley Park has been remembered as a "lovely grandson and brilliant student" by his grandmother.
Nick Renouf, 19, from Tauranga, who was studying for an engineering degree at Canterbury University, had been arrested for breaching a liquor ban on Wednesday night. He was found dead in an open drain in the park the next day.
His grandmother Mary Renouf, 82, speaking from Tauranga, said the family was devastated and struggling to cope with Nick's death.
She said she had not spoken to police directly and had heard only Nick may have fallen and hit his head. His body was found by a member of the public about midday yesterday.
"I have had no sleep since we found out. It is so hard to take because I had only seen Nick a few weeks ago when he was home for the holidays. We are such a close family and this was just totally out of the blue and unexpected.
"We have been through a very difficult time with my niece's death last week and now this, it's just unbelievable.''
Nick's parents, Paul and Julie, and his brother and sister arrived in Christchurch from Tauranga today.
"Nick was a brilliant student and I think he had just been offered a job for when he finished university. I cannot believe he is gone, it's such a waste of life. It's come as a complete shock. We are all totally devastated and just wish things could be different,'' Mary Renouf said.
"His loss is going to leave such a big hole in the family. We are all pulling together and my sister who lost her daughter has been staying with me and we have been comforting each other.''
In a statement, Mr Renouf's family described him as an "incredible guy" and a "great son and brother''.
"We are hurting and we miss him very much. Nick was a gifted young man. He was sensitive, caring, talented, intelligent and charming - he really was the full package.
"We are devastated to have lost him in such a tragic way, and are going to miss him terribly.''
Christchurch Area Commander Superintendent Andy McGregor said Mr Renouf had been arrested for a breach of a liquor ban in Riccarton Road on Wednesday night.
"Mr Renouf was processed at the Christchurch Central custody suite and released with a pre-charge warning at around 10.40pm. We have reviewed the process and interviewed officers who dealt with Mr Renouf, and there is no indication that he was impaired in any way.
"He was engaging well with our staff and was in good health at the time he was released.''
Mr McGregor said it was believed Mr Renouf made his own way from the station.
The case has been referred to the coroner.
University of Canterbury Vice-Chancellor Dr Rod Carr offered his condolences to Mr Renouf's family and friends.
"A sudden death such as this can be very difficult to comprehend and it is important that we support each other during this very sad time.''
He encouraged staff and students to seek support from friends, colleagues and health professionals, and encouraged students to contact family and friends to reassure them that they were safe and well.
"My thoughts are with you all,'' he said in a message to staff and students.
- APNZ