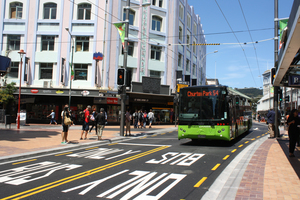 A cyclist was lucky to escape serious injury today after a collision with a bus in central Wellington.
The crash happened on Manners Mall just after 7am, Inspector Ken Climo from central police communications said.
"He should probably go out and buy a Lotto ticket now."
More than a dozen people have been hit along Wellington's Golden Mile in the two years since bus lanes were introduced, prompting the Wellington City Council to introduce safety measures.
Safety reports into the issue found mostly pedestrians were to blame for not looking both ways before crossing the road.
Since the lanes were introduced, 13 people have been hit by buses, including Vanessa Green who was killed in 2011 and Tim Brown, a director of NZ Bus, who suffered serious injuries last July.
Police are investigating this morning's incident.
- APNZ