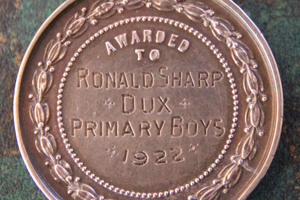 A medallion belonging to a Dux recipient from 1922 has finally found its rightful home.
Alan Williamson of Richmond asked for help to find the owners of the medallion he unearthed at one of his rental properties. The medallion stated it was awarded to a Ronald Sharp in 1922 from Christchurch West Primary School.
Relations of the now deceased Mr Sharp contacted Mr Williamson after reading the story and the medallion will be returned to Mr Sharp's daughter Mary Hickey who lives in Thames.
"We are so excited, it is just extraordinary," Mrs Hickey said. "I do remember something about him being dux, I think my mother told us about it."
Mr Sharp died of a heart attack aged 45, when Mrs Hickey was 10.
"My father had his own company which employed three or four of his siblings. It was called RW Sharpe," she said.
Marrying his long-time sweetheart Molly at age 29, they became known as Bon and Molly, she said.
Mrs Hickey has two brothers - Professor Andrew Sharp is the writer in residence at the University of Waikato and an Emeritus Professor of political studies, while Tom Sharp lives in London and once managed the Chelsea Football Club stadium.
- The Observer (Christchurch)