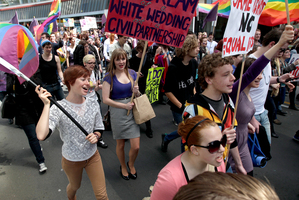 After months of protests, the marriage equality bill is expected to have a smooth passage through its second reading. Photo / Mark Mitchell
A bill to legalise same-sex marriage looks likely to pass its second reading tonight, after months of emotional debate, parliamentary submissions, and passionate protests from people on either side of the issue.
Join us as we follow tonight's debate, inside and outside Parliament, in this live blog.