Seasoned driver and reformed drinker Mathew Dearnaley tests Auckland Transport's 'beer goggles'.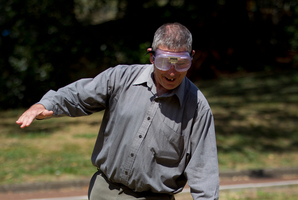 If you think you can knock back a few stiff ones after work and still be safe to drive, Auckland Transport has some cunning little devices to sober up your ideas.
After trying out the council organisation's "fatal vision goggles", you and your friends are guaranteed to question your ability to walk down Queen St unaided after several drinks - and fitness to drive off at the wheel of a tonne of motorised metal.
Unlike the army's night vision goggles giving soldiers enhanced ability to creep up on the enemy, these glasses will instantly impede your progress and leave you stumbling about as though you had spent a boozy afternoon in the pub.
They have become important tools for Auckland Transport's community road safety educators, who had five pairs of the goggles on high-rotate at the weekend to ram home the dangers of drink driving to thousands of Pasifika festival-goers at Western Springs.
In a test drive of the goggles in the safety of a grassy public park - well away from any motor traffic or pedestrians - this otherwise sober Herald reporter found himself lurching about like a drunken sailor in a sorry attempt at walking a straight line and then weaving his feet around a row of plastic cones.
The tasks looked simple until I put on the goggles - said to simulate the effect of six to eight standard drinks on vision and judgment - to find they had transformed the park into something out of Alice in Wonderland and the straight line into a long yellow hallucinatory curve which became almost impossible to navigate even with arms flailing about wildly.
Despite trying to muster the most intense concentration, I hit two of the cones without knowing it, knocking one over and staggering backwards.
"That could have been a child, a pedestrian or another car," Auckland Transport community transport co-ordinator Rachelle Borsteinas reminded me after I failed to recover my dignity by managing to hit only half her hand in a high-five slap to celebrate the end of my mercifully brief ordeal.
Stating what was now blindingly obvious to me and observers of my incapacity, she said being on the road in my condition would have been like driving with a loaded weapon.
Community transport manager Matthew Rednall said the target audience included passengers as well as drivers.
"We want to show their passengers what it would be like to get in a car with an alcohol-impaired driver," he said.
"Forty-seven per cent of alcohol-related crashes around Auckland involve 15- to 25-year-olds carrying passengers."
The closest participants were allowed to get to a car under such severe impairment was trying to insert a key into the ignition of a cardboard cut-out version.
Although the goggles are safe for most users and do not induce toxic hangovers, people suffering epilepsy should not wear them, and the extreme disorientation they cause means they are not recommended for sufferers of motion sickness likely to be left feeling queasy or even nauseous after "sobering up".