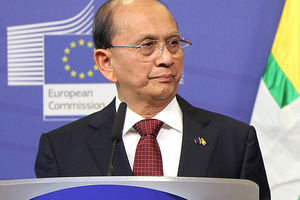 The President of Burma, U Thein Sein, will make a state visit to New Zealand this week.

Thein Sein will arrive in Auckland on Thursday and leave on Sunday.
The president will receive a formal state welcome at Government House in Auckland at 3pm on Thursday followed by a state dinner that evening.
He will also meet with representatives from Fonterra and the University of Auckland, and visit a dairy farm.
The president's delegation includes ministers and deputy ministers responsible for foreign affairs, agriculture, education, health, economic development and science.
New Zealand Governor General Sir Jerry Mateparae welcomed the visit.
"The last year has marked a new beginning in relations between New Zealand and Myanmar, with a number of high level visits after decades of limited contact. Those contacts have been in direct response to the wide ranging economic, social and political reforms instituted by the President that have seen the south-east Asian nation open itself to the world."
The former military leader cancelled a trip to New Zealand and Australia in December last year due to domestic developments.
The Burmese president's official website yesterday announced he would visit the two countries in the "near future", following invitations from Key and Australian Governor General Quentin Bryce.
In November Key became the first New Zealand Prime Minster to visit the South East Asian country, meeting with President Thein Sein as well pro-democracy campaigner Aung San Suu Kyi.
- nzherald.co.nz