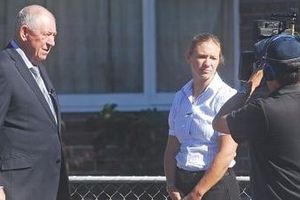 A brutal attack on an elderly Kawerau woman will feature on this Thursday's Police Ten 7 show.
Retired Detective Inspector Graham Bell and Constable Rebecca Mitchell were in the mill town yesterday going over the events of December 29 when the 71-year-old woman was bashed after opening her front door to the offender.
The day after the attack police said the woman, who had been waiting for a family member to arrive from outside the district, opened the door at 1am and was punched at least twice in the face before the offender demanded money. He then grabbed the woman's car keys and left the address at speed.
Her car was found a short time later in bush and near a river.
Mr Bell said it was not hard to get public indignation in a case like this one. "They [cases] don't come much worse than this," he said.
"The Ten 7 programme will be offering viewers clues to look at, some may not have been released to the public before this time, and asking them to play detective."
A description of the offender will also be provided.
Mr Bell said while he knew Kawerau's "fathers" wouldn't be happy with more bad news about the town on television, it was not the role of police to be worried about that.
"We [police] have received a very positive reception in Kawerau. I believe people are happy to see us here and know we are here to help."
For more articles from this region, go to Rotorua Daily Post