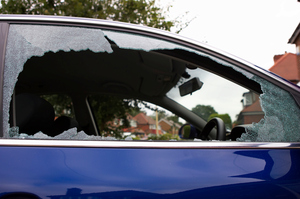 An alarming increase in thieves breaking car windows in broad daylight to steal valuables has sparked a warning from police that iPods and laptops left on seats are an "open invitation".
A police spokesperson said most thefts were the result of valuables being left in full view of passersby.
"It only takes a few seconds for an experienced criminal to break into a car and steal your property," she said. "Don't hand it to them on a plate.
"Our advice is not to leave anything of value in your vehicle. If you must do so, put it in the boot or somewhere out of sight.
"Preferably, valuable items should be taken out of the car, even if you are parking or stopping somewhere for a short while."
Hawke's Bay Police Crime Prevention adviser Paul Miller said it was only a "smash of the window" and the item was gone.
"There seems to be a little bit of a state of relaxation in the minds of some people," he said.
Mr Miller said the thefts-from-cars issue was a case of good news and bad news.
The good news was a prevention strategy devised and implemented four years ago had worked, while the bad news was that too many people were still leaving goods attractive to opportunist thieves in plain view.
In one recent incident, a person who left their car to do an estuary walk in Ahuriri in Hawkes Bay made the mistake of leaving the car key in a common "hiding" place - tucked under one of the wheels.
"That's an old one and thieves are very aware of it," Mr Miller said.
The key was found and used to unlock the car, with the thief taking a wallet left inside.
"These people (thieves) are out there looking for cars to break into - they will watch spots like that and they are undeterred by daylight."
Another recent incident happened not far from Napier police station.
The woman owner locked her car and left it for only a short time, with her laptop on the passenger's seat. She returned to find a window smashed and the laptop gone.
"They can smash, grab and be gone in less than 10 seconds - daylight is no deterrent."
For more articles from this region, go to Hawkes Bay Today