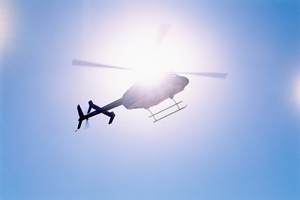 The body of a missing pilot has been found after a helicopter crash near Turangi yesterday.
The Robinson R66 helicopter was reported missing after it failed to return from dropping off hunters in the remote Omaru Valley yesterday afternoon.
The 39-year-old pilot, from Wairarapa, had not been not been heard from and an emergency locator beacon was not been activated.
Inspector Andy Brill of police northern communications said the helicopter wreckage was spotted by a rescue helicopter in a steep, bushy area about 7pm yesterday.
But the search was called off last night because the rescue helicopter did not have enough fuel to remain in the area for long before nightfall.
Six police officers and a police dog resumed the search this morning after they were winched into the area from a rescue helicopter.
The man's body was found about 50m from the wreckage about 11.30am.
Police said the body and the searchers would be airlifted from the area this afternoon.
The pilot's family has been advised but the man will not be named until his body has been recovered and formally identified.
Police were yesterday unsure if the man had survived the crash.
A helicopter crew member was winched down to the wreckage last night, but they were unable to find the pilot.
Mr Brill said the pilot could have been out of sight within in the wreckage, nearby, or could have walked away.
The Transport Accident Investigation Commission is investigating the cause of the crash.
A spokesman said the circumstances were not immediately apparent and two investigators had been assigned to the inquiry.
- APNZ