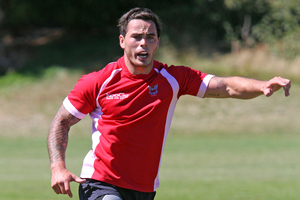 Suspended All Black Zac Guildford was a big drawcard in Taupo yesterday in his first game after an intensive rehab course to deal with his alcohol problems.
Guildford was cleared by the New Zealand Rugby Union and turned out for his Hawke's Bay club, Napier Tech, who beat Taupo Sports 55-21 in a pre-season game.
In January, Guildford, 24, withdrew from the Crusaders and Investec Super Rugby indefinitely to address his "on-going personal issues"
He stood down after allegedly assaulting a Christchurch party-goer, the latest in a series of misdemeanours involving alcohol. In one he ran into a bar in Rarotonga naked and bleeding, swinging punches at a patron. The union says he's ready to return to the field after a month-long intensive treatment programme.
Garry McKenna, Taupo Sports coach, said Guildford had treatment at Ohakune and "looked to be in a real good space". The Ahuru Recovery Retreat offers a 28-day intensive programme for $22,995.
King Country Rugby Football Union chief executive David Trewavas said Guildford looked happy to be back.
Guildford was expected to attend a misconduct hearing. He could have his NZRU contract terminated or return to the Crusaders soon.