Ministry zips it on whether principal's lover's 'expenses' ever recovered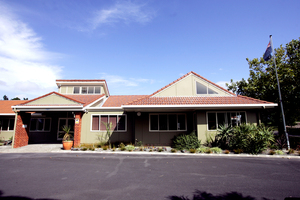 Education chiefs refuse to say whether a former principal has repaid almost $25,000 of school funds she was accused of paying to her lover.
Documents released under the Official Information Act reveal a secret deal between former Waimokoia School principal Lorraine Guthrie and the education ministry, a deal that thwarted education minister Hekia Parata's attempts to recover the money.
Guthrie, who was in a sexual relationship with a male staff member, is facing a Teachers Council Disciplinary Tribunal hearing for failing to declare the conflict of interest when the male teacher was being investigated for assaulting a student.
Despite the tribunal's attempts to protect her from identification by suppressing her name, it has been disclosed in the Employment Relations Authority and in Ministry of Education documents.
The two are no longer together. The man, now working as an airport baggage handler, was acquitted and has name suppression, but he has confirmed to the Herald on Sunday that he was paid "expenses".
The ministry has confirmed it struck a secret deal with Guthrie, who was in charge of Waimokoia School in Auckland, a residential school for children with behavioural problems, which closed in 2010.
When Guthrie was in charge she allegedly approved $24,000 in "miscellaneous" expenses to the man and another $666.66 for lawnmowing he didn't do.
The Ministry of Education confirmed that the matter wasn't referred to the police.
Details of the accusations against Guthrie came to light after staff from the office of Education Minister Hekia Parata applied to the Employment Relations Authority to have Guthrie repay the money.
Labour's education spokesman Chris Hipkins said the public had a right to know what had happened to the taxpayer money.
- with APNZ

Let's name banned teacher
The Herald on Sunday's campaign for more openness in the Teachers Disciplinary Tribunal is growing.
This week, editor Bryce Johns legally challenged the tribunal to publish the name of a physics teacher struck off for a sexual relationship with a teenage pupil. His name has been kept secret despite his victim asking for her complaint be heard in public.
We believe there is strong public interest in naming the teacher. Johns argues that identifying him might encourage more victims to come forward; introduce greater accountability; a more transparent process leading to greater public confidence; and discourage more offending, not only by this teacher but also by others.
But we aren't stopping there. We believe the Teachers Council rules need an overhaul. Last month, Johns formally urged the council to revoke its blanket name suppression rule for all teachers and schools.