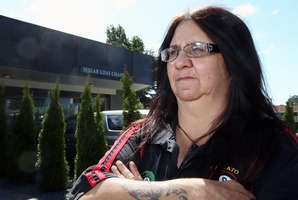 A new business operating at the entrance to Taradale Shopping Centre on Gloucester St has upset some locals because it is a funeral home.
Some Taradale residents believe it is inappropriate for a busy retail area, but Howard and Gannon Funerals say there is support for the business from many locals.
The issue has become a hot topic in text and letters to the editor of Hawke's Bay Today. Opinion has been mixed, with some supporting the increase in business it has brought to the area, while others believe a funeral home should not operate next to retail stores.
Tanya Geddes, a member of the Hawke's Bay Deaf Club which gathers on Lee Rd, is one of those who believe the business should relocate. Ms Geddes said she didn't like seeing hearses and coffins which would have bodies in them at the shopping centre and she felt it was an inappropriate place for the funeral home to be operating.
The business should be in a more private area so that it was "not exposed to the public", she said.
It had also put her off shopping at nearby food outlets.
Another Taradale resident, who only wanted to be known as Diane, said it was "horrible".
"I'm not against funeral homes, don't get me wrong, but I just don't think it's the appropriate place," she said.
"Wouldn't a side street be better? I just think where they've put it is wrong and it's horrible, it looks all very nice and everything, but I just don't agree.
"I think it's quite sad, I think it's sort of put a damper on Taradale."
Howard and Gannon Funerals director Ross Gannon he had received a large amount of positive feedback regarding their new location.
"We're concentrating on getting this new business out to the community and serving the community and so far the positive response has been overwhelming," Mr Gannon said.
He said he was happy to meet with Mrs Geddes to discuss her concerns and more planting was going in the area to "give a bit more privacy around here and beautify the area".
"Obviously we're trying to keep things as discreet as possible," Mr Gannon said.
Many people were concerned about it being next to a supermarket but Mr Gannon said there was empty floor space between his business and the nearby Four Square.
The first chapel service was held on Thursday.
For more articles from this region, go to Hawkes Bay Today