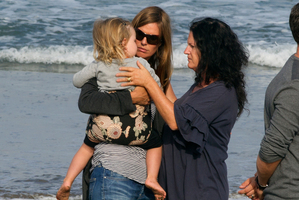 At least $19,000 has been donated to provide for the family of Adam Strange, who was killed by a shark at Muriwai Beach last week.
A trust account was set up to cover the cost of Mr Strange's funeral and to help his wife, Meg, and their 2-year-old daughter, Indigo.
Muriwai Volunteer Lifeguard Service chairman Tim Jago said $19,000 had been donated as of a few days ago, but it certainly would have topped that by now.
``It's a fund for Indigo in particular, to meet those costs of raising a young girl in the manner he would have wanted - make sure she gets a good education and a fulsome life.''
About $4000 had also been raised for the Muriwai Lifeguard Service.
Mr Strange, 46, died last Wednesday after being attacked by a bronze whaler and then a great white shark at Maori Bay.
On Monday, hundreds of people gathered at the Muriwai Surf Club to celebrate the film-maker's life at a private service.
***
How to help:
Donations can be made to the James Bell Accounting Ltd Trust Account at the ANZ Bank, account number 06-0193- 0262946-03, (reference A Strange or Adam) or to the Muriwai lifeguard service through ASB Bank account number 12-3053- 0322971-00, (reference: A Strange).
- APNZ