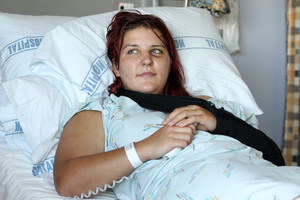 Two companies have been fined almost $30,000 after an 18-year-old industrial window cleaner fell 15 metres, suffering serious injuries.
Louisa Kuypers, an abseiling employee of At Height Limited, was lucky to survive the fall from the Lion House building in Newmarket in February last year.
"This victim was left with fractures to her skull, face, collarbone, lower legs, neck as well as pulmonary contusions and lacerations to her liver. She spent nearly a fortnight in hospital and was lucky to survive this fall from height,'' said John Howard from the Ministry of Business, Innovation and Employment, who prosecuted the companies.
In sentencing At Height at Auckland District Court today, Judge Emma Aitken found the appropriate starting point for a fine was $100,000.
After taking into account discounts and the small company's limited financial means, she imposed a fine of $9000 and ordered At Height to pay $32,000 in reparation.
The company that subcontracted the work to At Height Limited, Building Wash Services Limited, was fined $20,800 and ordered to pay $8000 in reparation.
The court heard Ms Kuypers was told to attach her sling and ropes to air-conditioning ducting brackets on the roof of the building. The brackets were not fixed to the roof.
"At Height Limited had a duty to this employee to keep her safe at work. They should have ensured she was adequately supervised, that the structural adequacy of the anchors was checked and that they were capable of holding the required weight,'' Mr Howard said.
"As the principal, Building Wash Services should have ensured contractor At Height Limited had carried out a thorough risk assessment before the work began, and required a site specific safety plan - they also had a responsibility in keeping this worker safe.''
At Height Limited pleaded guilty to one breach of Section 6 of the Health and Safety in Employment Act 1992.
Building Wash Services pleaded guilty to one breach of Section 18(1)(a) of the Health and Safety in Employment Act 1992.
- APNZ