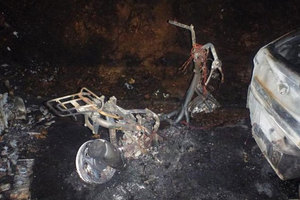 Police are investigating a suspected dual arson after two scooters were set alight in Wellington overnight.
Fire services were called to the first blaze near the entrance of Tanera Park in Brooklyn, where a moped scooter had also set alight a section of bush just after midnight.
"The scooter has been completely burnt out and is just a shell," said Detective Sergeant Shane Dye.
The extent of the damage meant the owner had not been able to be identified, he said.
The fire from the second scooter, only a short distance away on Mortimer Tce, had spread further, causing significant damage to two other vehicles.
The scooter had been moved from where it was parked on a car pad and placed between two other vehicles on the road a number of houses away, police said.
Police believe the two incidents are related.
"Due to the timing of the fires we believe they are connected," said Mr Dye.
"We are seeking information from anyone who witnessed the arsons or saw any suspicious activity in the area around midnight last night."
Anyone with information should call Wellington Police on (04) 381 2000 or call Crimestoppers anonymously on 0800 555 111.