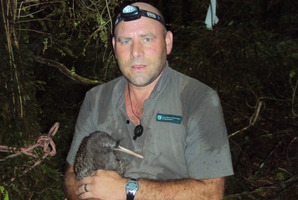 A Department of Conservation worker lowered himself down a 3m mine shaft to rescue a kiwi after a member of the public heard its calls in a remote valley north of Greymouth.
Trevor Ellen was tramping in the headwaters of the Ten Mile Valley on Friday when he heard the bird's call, which he followed to find a great spotted kiwi down the hole. The area is full of abandoned coalmines and shafts, some almost a century old.
"He was down in an old sinkhole from the 1800s, like a mine shaft. I couldn't get him out on my own, so we went back the next day."
DOC biodiversity ranger Gavin Collis and Mr Ellen returned early on Saturday morning, on a three-hour rescue mission.
Mr Collis attached a rope to a punga tree, and lowered himself down. When he reached the bottom, the bird, probably a juvenile, did not run away, and let him pick it up.
As there was little bird droppings he thinks it had only been there a few days.
Mr Collis is used to climbing through his DOC job, more usually checking out bat roosting sites.
Asked what the chances were of someone hearing the kiwi up the remote valley, he said it was "probably the luckiest kiwi around".
The bird was released back into the nearby bush.