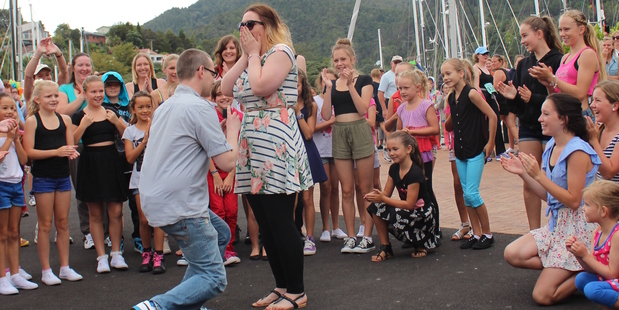 Stories making headlines across New Zealand at noon include an epic surprise proposal and what's that crawling across the customs search bench?
After flying half way round the world to propose to his partner in Whangarei, Andrew Bewley was plucking up the courage at lunch when suddenly a flash mob appeared. (video)
Customs staff were questioning a Chinese international student when an ugly critter escaped from his bag and ran across the search bench.
It is supposed to be one of the best trout fishing rivers in New Zealand, but anglers are avoiding it because it can be poisonous.
Conflict between the principal of a Northland school and its staff, trustees and Maori community has escalated to a point that pupils' education is at risk, according to an Education Review Office report.
There have been 39 reported breaches of the Rena exclusion zone and Bay of Plenty Regional Council is warning boaties to stay away.
A young girl who died with her sister in a high-speed crash pleaded with the driver to slow down.
While spearfishing at Mahia at a secret location these people came across a shipwreck. (video)
Jonathan James Costello's DNA caught up with him after six years.
An autistic man was told ''go home to China'' in a racist verbal attack in central Dunedin.
Over on the West Coast, some Census collectors ran out of forms.
Top trending topics on Twitter in NZ at noon were: #ImBeautiful, #3rdDegree, NRL, #laugh, New Zealand, Iron Man 3, #NZvEng, MRP and Fiji.
Other stories making headlines across New Zealand at noon:
Crimestoppers tips lead to dope busts
Waiariki student feels let down
Police email warning
Locals air grievances over stink
Balloon festival gets set for lift off
Fatal dog fight in South Dunedin