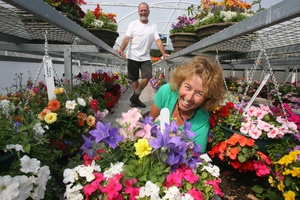 Thousands have flocked to the opening day of the Ellerslie International Flower Show in Christchurch today.
Early estimates suggest 7000 people visited the acclaimed show at North Hagley Park, which runs for five days.
Organisers are hoping for more fine weather so visitors can make the most of the Ellerslie experience.
"We're thrilled with the how the first day has gone," Ellerslie managing director Dave Mee said.
"The atmosphere has been great and the warm weather has drawn a good crowd out and everyone seems impressed by how much there is to see and do Ellerslie this year."
The judges' supreme award-winning garden, Revolutionising Reuse has proven extremely popular, with visitors enjoying the Christchurch designers' clever take on outdoor living spaces.
Children and adults alike have also been captivated by the gold-winning garden, The Gloaming, which brings together the landscaping expertise of Crusaders star halfback Andy Ellis and Danny Kamo and the creative genius of Weta Workshop's Johnny Fraser-Allan.
"People too are loving the imaginative and innovative work of the students in our emerging designers section while the sustainable garden created by the pupils from Raumati South School is also delighting the crowds," Mr Mee said.
The floral art marquee has been more popular than ever, with visitors enjoying the chance to see of New Zealand's top apprentice florists competing against each other for national honours.
The first ever Edible Ellerslie interactive sessions, with celebrity chefs Darren Wright, Bevan Smith, Richard Hingston and Garry Miller, have also been a big hit.
"Ellerslie this year is about more than just gardens; it is also about food and fashion and people seem to be really enjoying the mix. There really is something for everyone," Mr Mee added.
Ellerslie is open to the public until 6pm on Sunday.
- APNZ