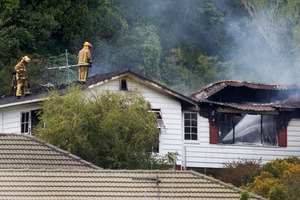 A DNA test might be needed to confirm the identify an elderly woman killed in a Wellington house fire yesterday.
The woman was trapped when a blaze ripped through the house in suburban Karori she shared with her husband about 11.30am.
Police hope a post mortem examination tomorrow will confirm her identity but spokesman Nick Bohm said DNA testing may be required.
Detective Senior Sergeant Donna Howard said police were hoping to complete a scene examination at the property today, but preliminary indications were that the fire was not suspicious.
Karori fire station officer Nic Bush last night praised the actions of locals who tried to enter the house.
"Their efforts with garden hoses helped prevent the fire from spreading to a neighbouring house. The house itself was so well involved that it required firefighters with five fire hoses to douse the fire and search the building,'' he said.
"We could see that the fire was a `goer' as soon as we came over the hill.''
Mr Bush said the house had been locked, which had hampered the efforts of neighbours trying to enter.
- APNZ