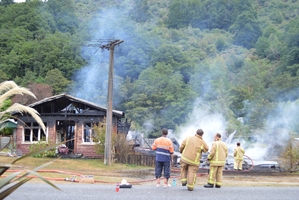 A man has been charged with arson after the fierce blaze that destroyed two houses at Blacks Point, near Reefton, early on Friday morning.
Detective constable Michele Bloom, of Greymouth CIB, said a man in his 40s made a brief appearance in the Greymouth District Court yesterday, charged with intentionally lighting the fire.
He was granted interim name suppression and will reappear in about three weeks.
The first house burst into flames about 4.50am. The fire was so intense that neighbours reported it sounded like gunshots.
A volunteer firefighter pulled a 42-year-old man from the burning house, just as the fire was beginning to "roll through" the room. He was airlifted to Grey Base Hospital suffering from smoke inhalation and burns.
Before the Reefton Volunteer Fire Brigade could contain the fire, the vacant house next door also erupted in flames and was reduced to a shell; the first house was razed.
- The Greymouth Star