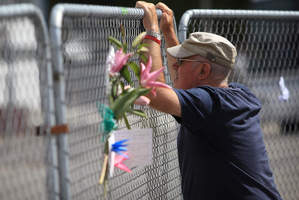 People who live through stressful events, such as major earthquakes, experience increased anxiety and depression that can slow their return to work, a new study has found.
The research by University of Canterbury (UC) psychology experts may have found significant implications for assessments of work readiness.
Now, they're looking at developing computer tests that can find out whether someone is for work after experiencing a stressful event such as a major disaster.
The UC team, headed by Professor Deak Helton, arranged for people after the massive September 4, 2010 earthquake to perform sensitive computer tasks to assess how much they paid attention and what they were doing.
During the study they also measured the participants' oxygen levels in their brains, and asked for participants to report on their depressive, anxiety and stress symptoms in response to the earthquake.
"The main findings showed that people reported moderately elevated symptoms of depression and stress which showed reductions in their ability to sustain their attention," Professor Helton said.
The findings, published in the Experimental Brain Research journal, were in line with well-established psychological theories and the team's previous research.
But the tentative results also suggested that people with extremely elevated stress symptoms may be able to be classified by the combination of their brain oxygen levels and performance on the computer tasks.
It could mean that computer tests could be done on people to find out exactly who is fit to work after disasters.
"While many people would rely on someone's own reports of their symptoms, in some settings the person could be either unwilling or unable to make these self-assessments accurately," said Professor Helton, an international leader in the emerging field of neuro-ergonomics - the application of neuroscience work places.
The tests could also be applied to broader areas, like people on stressful peacekeeping missions and whether they are fit for redeployment.
"While someone might suggest you could simply ask them, in that context there is probably a culture of not coming forward with these kinds of admissions as soldiering is traditionally a stoic culture.
"We are not mental health professionals and we do not diagnose people. But we see our laboratory work as potentially helpful to those in the mental health community," said Professor Helton.
- APNZ