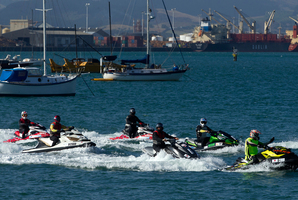 A sore backside is what a group of jet skiers will have as they take on a 600km journey to the Bay of Islands, raising money for charity.
About 25 jet skis left Pilot Bay yesterday morning bound for Russell in the Bay of Islands, in an effort to raise $40,000 for the Melanoma Foundation of New Zealand.
The journey would be broken up into six stages. Each leg of the run would cover about 100km.
Event organiser Jeremy Burfoot, who holds several jet ski-related world records, said he had melanoma in 2005 and had since worked with the foundation to raise awareness and funds.
The Melanoma Foundation is a registered charitable trust, devoted to creating excellence in the awareness, education, prevention, treatment and research of the disease in New Zealand.
For more articles from this region, go to Bay of Plenty Times