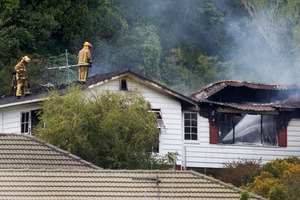 The body of an elderly woman who was trapped in her Wellington home as a fire ripped through will be recovered today.
Neighbours used garden hoses in a desperate bid to stop the fire spreading after the house on Woodhouse Ave in Karori caught fire about 11.30am yesterday.
Police would today remove the body from the house so they could make a formal identification, Detective Senior Sergeant Donna Howard said.
They would also conduct a scene examination with firefighters this morning to determine the cause of the blaze.
Karori fire station officer Nic Bush praised the actions of locals who tried to enter the house.
"Their efforts with garden hoses helped prevent the fire from spreading to a neighbouring house. The house itself was so well involved that it required firefighters with five fire hoses to douse the fire and search the building," he said.
"We could see that the fire was a 'goer' as soon as we came over the hill."
Mr Bush said the house had been locked, which had hampered the efforts of neighbours trying to enter.
Firefighters had to use a sledgehammer to break in.
Six trucks and crews were needed to battle the blaze.
Fire crews last night dampened down hotspots at the house, which was destroyed.
The woman's husband was understood to have been out when the fire took hold.
A neighbour of the elderly couple told Radio New Zealand the speed of the flames was terrifying.
Vivienne Boyle, who lived across the road, heard someone calling for help and went outside to see a young woman calling that the house was on fire.
"We could see smoke coming out and the start of some flames.
"It was pretty scary you could see that pretty soon the (front) room was about to be totally on fire."
The flames moved "extremely fast", Ms Boyle said.
- APNZ