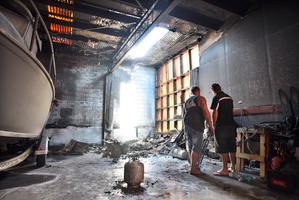 An early morning fishing trip turned into a hellish experience for two keen boaties when they opened their shed to find everything on fire.
The tenant of a concrete storage building on Rotorua's Riri St arose early on Saturday morning to take his boat out for fishing.
When he and a friend arrived at the shed at 5.30am, to pick up the aluminium boat, they discovered a huge blaze.
The owner of the building, who did not want to be named, said the tenant and his friend went through four extinguishers trying to get the fire under control.
The tenant severely burned his hand while opening the rolling door to the shed when he pulled on a chain which was heated by the fire.
"It was that hot," the owner said.
"The whole building looks like someone has painted it black.
"An alarm 20m away from the source of the fire is a molten mess."
Fire services arrived about 6.15am to assist the men, who were taken to hospital to be treated for burns and smoke inhalation.
The tenant who burned his hand and elbow also burned his feet when he walked on hot concrete inside the building.
"The damage that was done tells me the fire must have been going for a while," the building owner said.
The tenant had used the building mainly as a workshop, storing supplies for his painting business.
Most of the paint in the building was non-flammable, and they had insurance on the building and contents, he said.
The cause of the fire is being investigated by the Rotorua Fire Service. It is not thought to be suspicious.
Meanwhile, there was a fire at Kinleith's Carter Holt Harvey Pulp and Paper Mill yesterday morning.
The mill's own firefighting team called in extra help from fire services at Tokoroa about 4am.
However, the fire was eventually contained inside a gas boiler and the fire service was stood down.
No one was injured in the incident.
For more articles from this region, go to Rotorua Daily Post