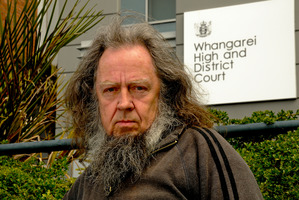 A former diplomat convicted of assaulting a Crown solicitor claims the trial judge discarded crucial evidence that could have cleared him of wrongdoing.
John Colman, 62, was found guilty in August last year of assaulting Northland Crown prosecutor Mike Smith and ordered to come up for sentence if called upon within six months.
He appealed against his conviction and sentence in the High Court at Whangarei last week.
On October 7, 2011, Colman was being escorted out of the court by two security guards and, as Mr Smith entered the court building, a melee ensued in which both men ended up on the ground.
Mr Smith said Colman punched him in the face, but Colman said he merely threw papers at him in frustration and the Crown prosecutor was taken to the ground by one of the security guards as he put Colman in a headlock.
Colman has Asperger's Syndrome and said he genuinely felt threatened. He said Smith had come towards him as he was leaving the building so he threw papers at him.
Judge Ema Aitken found Colman guilty, saying he could have avoided the confrontation with Mr Smith by simply walking past him as he entered the court building. Judge Aitken ruled out self-defence or that the assault was to prevent a further breach of the peace as Colman claimed.
In his High Court appeal, Colman denied ever hitting anyone and said an arm around Mr Smith's neck, as shown on surveillance footage, belonged to a security officer.
He said four of the five witnesses did not see him assaulting Mr Smith but claimed Judge Aitken discarded their evidence.
Colman, who represented himself, claimed the trial judge also put the video evidence, and the doubt he claimed it presented in terms of his alleged involvement, to one side.
Justice Murray Gilbert said Judge Aitken took the evidence into account but ruled it was not sufficient on its own to prove the charge.
Colman criticised the way his trial was conducted, saying police delayed providing him with full disclosures.
He said the trial judge prevented him from testing the veracity of Mr Smith's evidence while doubting his account of events.
He said court security harassed, tormented and searched his bags while other court users were not subjected to the same treatment.
He sought to have his sentence marginally reduced but Justice Gilbert said he did not have the jurisdiction to act upon such an application.
The judge has reserved his decision.
For more articles from this region, go to Northern Advocate