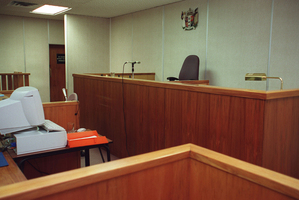 Two Wanganui men have been handed community-based sentences for their involvement in a pack attack on a drunk motorcycle racegoer.
Yassin Robert Edward Tansi, 18, and Aljarrau Simmonds-Waterhouse, 20, were part of a group that pursued an "extremely" intoxicated man as he walked home from the Boxing Day races early on December 27, 2011.
The man and the group encountered one another and a "verbal altercation" ensued.
The group ended up chasing the man through central Wanganui and twice caught up with him. Each time, he was punched and kicked by various members of the group.
Following the beating, the man was taken to Wanganui Hospital but needed to be transferred to Taranaki Base Hospital for emergency surgery on his broken jaw.
Both Tansi and Simmonds-Waterhouse were charged with one count of wounding with intent to injure.
In the Wanganui District Court on Thursday, Judge Mike Behrens said thoughtlessness had controlled the offending.
"They don't think about it. Sadly, their gut reaction is to be violent."
Tansi was handed five months' community detention, 90 hours of community work and six months' supervision, while Simmonds-Waterhouse was sentenced to six months' community detention, 100 hours of community work and six months' supervision.
Simmonds-Waterhouse also received his first warning under the "three strikes" law, which imposes heavier penalties on repeat violent or sexual offenders.
For more articles from this region, go to Wanganui Chronicle