Blue Fiat has to slug it out with a rival for parking spaces.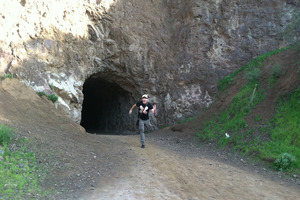 My blue Fiat 500 has a nemesis. Almost every day I've come across it, a red Mini darts in front of me at the lights and steals my hotel parking spot. Every time I see it I say - "Ah, my nemesis ... we meet again!"
I'm pretty sure the Mini is faster. I mean I haven't bothered to check the actual specs but it is red after all. My Fiat is slightly smaller and, oddly, I feel good about that. I have the smallest car on the road. That much I know.
But my nemesis car is ruder than mine. Red Mini took the only remaining parking spot outside Starbucks the other day ...
"Damn you, my nemesis! You saw me indicating for that! How could you?" I yelled at my closed window as I switched off the wipers I had accidentally turned on instead of the indicator.
I decided to park nearby, nabbing the chance to meet the driver of my nemesis car. Once I got inside the coffee shop I stared at the person already ordering at the counter.
It was a lady in her mid-sixties. Still, I slid up next to her to see what she would say.
"Hello, dear." was the response.
Yes, well, I'll hello dear you in a minute I thought, then I quickly followed through with my thought ...
"Hello, dear."
It turned out only our cars were nemeses. We got on just fine. She even opened the door for me on her way out. I graciously accepted but then had to go back inside again because I forgot my coffee. Anyway my point is ... does your car have a nemesis?
In other exciting news, I found the original Batcave from the 1960s TV show Batman. It's in Bronson Canyon which is hidden up in the Hollywood hills. I was hiking with my friends Glenn and Carol and we stumbled upon it. I immediately recognised the iconic hole and ran towards it. Then I made Carol take lots of photos of me running out of it in various Batman poses.
The cave itself was over 60m deep and in the centre split into two caverns. It was a spooky, dusty place but one where imaginations could go wild. Using my cellphone as a torch I explored the cave walls looking for Adam West's graffiti tags but there was nothing but rocks.
I looked down the main chamber. It was the perfect width to drive the Batmobile through. I closed my eyes to imagine it. I saw headlights beaming at the entrance, then a car came zooming towards me. I mentally hummed the Batman theme song... Wait a minute! Those headlights are too close together! ... No, surely not? It can't be?
ZOOM, SLAM, BOOM !! I opened my eyes and tried to shake off the image but it was too late. The red Mini had got me. Damn you, my nemesis!