Graeme Kelly recalls smokers panic buying cigarettes in 1982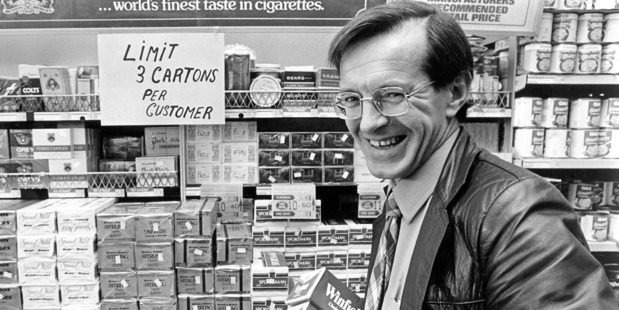 Last-gasp sales of cigarettes on the eve of Budget announcements were once as large a part of the New Zealand landscape as the brand you chose.
When the Government announced a Budget was being unveiled on Thursday, August 12, 1982, good, keen Kiwi blokes knew what to do. They grabbed their faux leather wallets, jumped into their trusty Holdens and tootled off to buy as many cigarettes as they were allowed.
At the Grey Lynn Foodtown on Saturday before the price hikes, customers such as Tony Martin were permitted up to three cartons of his preferred "choice Virginia tobacco".
The limit wasn't enforced for the health of the customers, nor for the kids in the back of the Holden inhaling the fumes.
It was the shop trying to continue selling stock at pre-Budget price levels as long as possible.
Last month, the New Zealand Government announced plans to follow the Australians and move to brandless, plain packs for cigarettes.
Graeme Kelly was running Foodtown operations in New Zealand at the time our smiling Tony Martin made his purchase.
Now retired in Melbourne, Kelly is no fan of government interference but believes New Zealand's plans to be smoke-free by 2025 are inevitable.
He remembers imposing a limit of sales in 1982 so cigarettes could be purchased for the same prices as before the Budget tax hike for as long as possible afterwards.
"When the price goes up, the retailers' primary objective is to stay in business and you have to replenish the stock at the new prices while selling the stock you've purchased at the old price," Kelly says.
"A lot of places go broke because they haven't got enough money to replenish at higher prices.
"But because companies like Foodtown weren't marginal, they could choose not to raise prices and continue to sell the stock at the old prices."
Kelly - who has never been a smoker - is entirely unapologetic about profits made from cigarettes.
"The role of a supermarket is to provide goods and services within the law," he says.
"If consumers want something, and it's legal to sell it, then the obligation on the supermarket is to provide what the consumer wants."
Kelly hadn't heard about New Zealand's plan to adopt plain packs but isn't surprised. "[Public opinion] has changed. I was reading a profile of a person recently and his mother persuaded him to take up smoking because it was a 'manly' thing to do.
"That may well have been the view back then. You would have to say it would be an extremely abnormal view to take now."
Kelly ceased being Foodtown managing director in 1987 and moved to Australia the following year with Coles Myer, the firm which bought Foodtown.
He is now retired, but maintains "a few business interests".