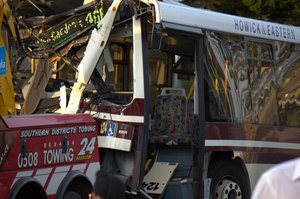 A man is dead and three people - including two children - are in hospital following a bus crash in Manurewa yesterday.
Emergency services were called to Hill Rd, near the Phoenicia Court intersection, just after 3pm.
The Howick & Eastern bus driver had lost control and crashed into a tree just a few metres in front of a house.
Four people were injured in the crash. An 86-year-old man suffered severe injuries and was initially in a critical condition, but later died at the scene shortly after medical staff arrived.
Two children suffered broken legs and were taken to Middlemore Hospital with the driver. All remain in a stable condition today.
A St John spokesman said there were 10 people, including the driver, on board at the time.
It is understood one person was thrown from the bus on impact. A taxi also narrowly missed hitting the bus.
At the scene, several police cars and officers stood around the area, which had been cordoned off.
The front of the bus had crumpled and part of the roof had collapsed.
A number of passenger chairs had broken and the side door had smashed.
Howick & Eastern Buses general manager Sheryll Otway said it was not yet known what caused the crash.
"We are doing all we can to assist the families of those who were involved in this tragic accident, including the three people who suffered injuries," she said.
"Unfortunately we are unable to make any comment on the cause of the accident until the police have carried out an investigation on site.
"We are co-operating in every way possible with the police and are giving them every assistance possible," Mrs Otway said.
The driver was "very experienced" and had been with the company for seven years, said a Howick & Eastern Buses spokeswoman.
An investigation into the cause of the crash was ongoing, she said.
The bus crash follows another accident in Auckland City on February 13, when two buses collided on Khyber Pass Rd. Four people were taken to hospital.