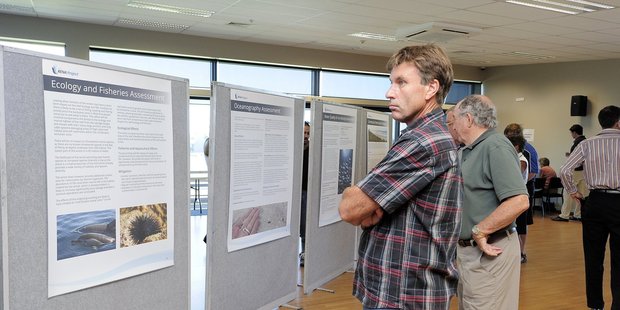 The future of Rena will be left in the hands of the Environment Court if the Western Bay of Plenty community can't make up its mind.
The first of two community information events to discuss the future of the wreck was held at Mount Maunganui Club last night.
By 6.30pm about 30 people had gathered to absorb information offered by salvors and experts and view video footage and information placards.
Captain John Owen, senior claims manager for Rena insurer The Swedish Club, told the Bay of Plenty Times a decision had to be made soon on Rena's future.
"It's getting towards crunch time."
If the community could not come to a collective decision, the matter would be taken through the courts, Mr Owen said.
There was a high level of community concern about the cost of the recovery project, he said.
The cost to date is $275 million. This, and any future cost, would be covered by Rena's insurers, not taxpayers, he said.
Mr Owen said estimating the cost of full removal of the wreck would be "pure guesswork".
Despite an order from Maritime New Zealand for full wreck removal, the task involved an increased risk to safety and was considerably more challenging, Mr Owen said.
"It would be difficult and it's comparable with other challenging salvages around the world ... but it has not been put in the 'too hard basket'."
The only way around the order was for the ship's owners Daina Shipping Company and The Swedish Club to apply for resource consent.
Any concerns about possible remaining contaminants on Rena had been dispelled by scientific testing, Mr Owen said.
However, residents at last night's meeting expressed an overall concern at the potential environmental impacts if the wreck was left on Astrolabe Reef.
Te Puke resident Graham Lawler was sceptical of the information evening.
"These community consultations, it's just a process they go through so they can say they have consulted with the people. But it doesn't matter what the people have said. They will do what they like."
Mr Lawler said Rena needed to be cleaned up now, not dealt with later if there was a further release of debris or contaminants.
Mt Maunganui resident Harry Hill was undecided about he future of the wreck.
"I'd like to to know more about how it's going to be too hard to remove," he said.
Tauranga iwi are going through a separate consultation process and are expected to meet tomorrow.
Motiti Island resident representative Rangi Butler said their view remained the same - all of Rena had to go.
Ms Butler said they could not see any good reason otherwise.
Another community meeting will be held at Mount Maunganui Surf Life Saving Club, from 4pm to 7pm tomorrow.
For more articles from this region, go to Bay of Plenty Times