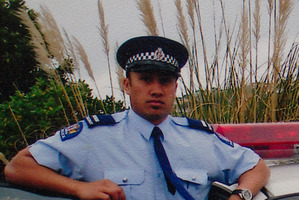 A New Zealand police officer who died in Tonga suffered heavy blows to his head resulting in a fractured skull, haemorrhage and bruising to his brain, a Tongan court has been told.
New Zealand forensic pathologist Fintan Garavan conducted a post mortem examination on Constable Kali Fungavaka shortly after his death.
Mr Fungavaka, 38, died in August last year after suffering severe head injuries while in police custody. The Counties Manukau policeman was in the country to bury his grandfather, who had died just days earlier.
Six men are accused of his manslaughter.
Dr Garavan read his findings at the Nuku'alofa Magistrate's Court yesterday on the second day of the Preliminary Inquiry into the homicide death, the Matangi Tonga reported. Mr Fungavaka was allegedly stomped on his head, choked into unconsciousness, hit on his head with a torch, and punched.
"As a result of the autopsy and review of information available to me at the time, I wrote this report and formed the opinion that the cause of death was a huge blunt blow trauma to the head," Dr Garavan said.
The pathologist said the information provided to him by New Zealand Police suggested Mr Fungavaka had been drinking alcohol after the funeral until the early morning of August 18.
He was arrested for being drunk in a public place.
Dr Garavan said at some point after his arrest Mr Fungavaka was assaulted within the police cell block.
Information suggested he fell and hit his head on a concrete floor at the police station. There was an admission from police that he was strangled or choked before he fell on his head, because he was being aggressive in the arresting area.
Dr Garavan said it was alleged Mr Fungavaka was struck on his head, possibly with a torch, on his walk to the police station from the bar where he had been drinking.
"As such a head injury explained his aggressive behaviour at the police station," he said.
After the incident, Mr Fungavaka was hospitalised and put on life support, which was turned off five days after the alleged attack.
All of the accused - Inspector Kelepi Hala'ufia, Constables Manu Tu'ivai, Salesi Maile, Fatai Faletau, and Tevita Vakalahi, and a civilian Semisi Kalisitiane Manu - were charged with manslaughter with an alternative charge of causing grievous bodily harm.
Crown Prosecutor Sione Sisifa told the court the Crown alleged the five accused police officers were in a joint enterprise to commit the unlawful act of committing manslaughter and causing grievous bodily harm on Mr Fungavaka.
Manu had allegedly committed the unlawful act inside the prison cell at the Nuku'alofa Central Police station, Mr Sisifa said.
Mr Fungavaka's family - including his wife Audra Watts, younger brother Bishop and mother Rosemary - travelled from New Zealand for the inquiry.
- APNZ