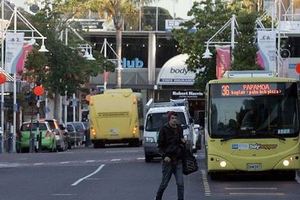 Youth brawls and intimidating behaviour continue to drive people away from the Willow St bus stop in Tauranga.
Tauranga Art Gallery director Penelope Jackson said there had been no improvement in behaviour since the Tauranga City Council and police agreed to increase patrols in the area in October last year.
"Two to three Fridays ago, there was an incident out there when a guy was knocked to the ground and was bleeding from his head," she said.
"That's really brought it home. That was four o'clock in the afternoon on a Friday. There were school kids trying to catch buses and mums and kids out there."
Ashleigh Olsen, 17, regularly caught the bus from Willow St and said there were always "dodgy" people congregating at the bus stop.
"They look for fights and stand there smoking, even though they are underage.
"They're quite intimidating."
Cartridge World owner Peter East said litter was a major problem at the bus stop.
"It's always filthy. It's just squalor in the middle of the city where tourists get dropped off. It's not a good look," he said.
Bronco's Sports owner Ben Tuck said a more visible police presence last week quietened the area down but, without that, it was as unruly as ever. "There's still a lot of fights out there," he said. "The worst are the young girls. They are the ones doing the bullying," he said.
Council customer and environmental group services manager Peter Frawley said increased police and community patrols after the issue was raised last year had made an obvious improvement but there had a number of incidents over the past few weeks.
Mr Frawley was meeting with police today to review the situation.
Tauranga police Senior Sergeant Cam Anderson said homeless people and groups of youths congregating in the area were an ongoing problem. Police tried to keep an eye on the area through increasing foot patrols, he said.
For more articles from this region, go to Bay of Plenty Times